Active involvement enables you to capture and harness the collective intelligence of your team, employees, and leaders.
When you develop your team's collective intelligence you will:
Solve problems faster and enable change that was previously not thought possible
Raise your team's level of productivity without added stress
Enable change that is healthier and more sustainable
Prevent resistance to change and build readiness.
Defining Collective Intelligence
Collective intelligence reflects the combined capacity and capability of a group to perform a wide variety of tasks and solve diverse problems [1]. When a group has developed collective intelligence it uses each person's experiences, beliefs, knowledge, and skills to create a level of intelligence that would not be possible in any one individual.
Research has shown that a group's level of collective intelligence is a consistent predictor of its success and its ability to complete more complex tasks in the future[2]. Actively involving people to encourage and enable collective intelligence will help your change efforts.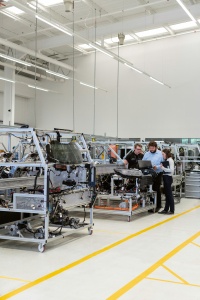 The Power of Collective Intelligence to Drive Innovation
The ability to solve daily and complex problems faster and with more creativity is a key success driver for your organization. And that's the power of collective intelligence.  It enables your team to solve complex problems more quickly and thus drive innovation in those everyday situations.
Take the example of a biomedical company.  A group of engineers had been working for several months to solve a critical production problem.  The solution came quickly and from an unexpected source when they tapped into the collective intelligence of their staff.
After hearing about the problem, one of the employees, who describes himself as just the guy who runs the machinery, had an idea. The problem that had been baffling the engineers for months was solved in three days, with one trip to the dollar store and some minor engineering adjustments. That's the power of collective intelligence.
Three Questions to Help You Build and Sustain Collective Intelligence
Do the people in the room represent a broad range of thinking and different perspectives on the problem?
Thomas Malone (Professor of Management and founding director of the MIT Centre for Collective Intelligence), notes, smart people don't always create smart groups.
Groups become smart when the people in the group bring different perspectives and levels of thinking. It's the diversity of thought among individual group members and not individual intelligence that enables more creative and faster problem-solving. Groups who have a moderate level of diversity in their thinking and perspectives demonstrate higher levels of collective intelligence.
The biomedical firm solved their production problem because their employee brought a different level of thinking and perspective to the problem.
Do you encourage curiosity, alternatives, and collaboration on new ideas?
The willingness and ability to share ideas equally, explore new ways of thinking and being curious about another person's perspective influences the level of collective intelligence.
One study found groups who tended to have one or more people dominate the conversation and activity were less collectively intelligent than groups where there was equal participation among group members[3].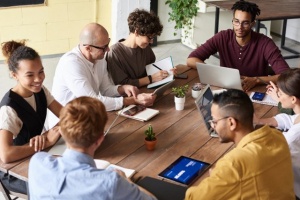 That's one reason the biomedical company was successful. The employee was given time to present his perspective and idea. Then he was encouraged to collaborate with the engineers to work through the solution.
What is the level of social perceptiveness among group members?

Social perceptiveness is not the same as socialization among group members. Social perceptiveness is a person's ability to perceive the subtle emotional and interpersonal cues of another person[4]. It is one of the most significant factors for predicting the level of collective intelligence.
Emotions tend to get a bad rap in business, yet every decision we make is grounded in emotion.
That's why including group members who can detect and respond to both the verbal and non-verbal cues that let you know when emotions are impacting the group's performance is helpful.
Today's challenges are multi-faceted. Meeting them requires the active involvement of the people affected.
Making the time to create the structure and encouraging the conversations to enable collective intelligence will allow you to harness the full strength of your organization