The shift to a virtual work environment, new technologies, mergers and acquisitions, and workers' expectations are just some of the things driving organizational change. Staying relevant, meeting unexpected demands, and thriving means you need skilled change leaders. Leaders who know how to guide your organization and help employees work with change instead of fearing it.
Leadership and Management Are Not Distinct Entities
There has long been a debate about the difference between leadership and management. Most of you have probably heard the mantra Leaders Lead People and Managers Manage Tasks. Dr. Henry Mintzberg states we need to stop separating leadership and management[1]. He says every leader must know how to manage, and every manager must know how to lead.
In our work, we use change leadership and change management interchangeably. That's because, like two sides of the same coin, change leadership and change management are inseparable. Every leader—whether the CEO, a mid-level manager, or a front-line supervisor needs the skills to both lead and manage change.
The knowledge and skills needed to enable organizational change are different than those required for your daily operation. Change leaders need to know how to work with the human response to change and set the conditions for intrinsic motivation to enable commitment. They must also be comfortable navigating the emotional elements and building perceived capability, and more.
These additional skills enable change leaders to see what others don't see.
The Value of Skilled Change Leaders
I needed a loveseat to complete my family room. After months of shopping and looking at what felt like hundreds of fabric samples, I found the fabric and loveseat I wanted. Or so I thought.
Because it was a significant investment and I would have to live with it for a long time, I consulted with my friend Carol Standil. Carol owns Colour & Design. She is one of the most talented designers I know. I trust her, and I am so glad I did.
She prevented me from making a very costly mistake. The fabric was beautiful, and the colours matched the other furniture and the paint. However, what Carol could see that I couldn't is that it wouldn't work once I brought everything together. I would have confusion and chaos.
That's the value of a skilled change leader. They see beyond the individual components of a single change initiative. Skilled change leaders apply holistic systems thinking when approaching change.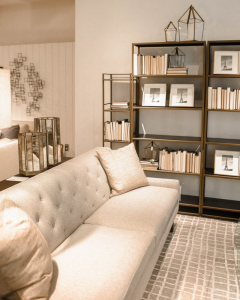 But Carol didn't just tell me it wouldn't work. She took the time to understand why I liked the fabric, what I wanted to accomplish, and showed me how it could work. With a clear picture (literally), I can proceed with confidence.
Skilled change leaders are similar. They know what actions are needed, and perhaps more importantly, they know what actions not to take. Then they can create an approach and plan that enables success.
Here are three more ways skilled change leaders can help your organization grow.
Three Ways Skilled Change Leaders Help Your Organization Grow
Understand the actions needed to harness the power of our natural human response to change. When we work with leaders, they are often surprised to discover how (with a readiness mindset) it's easy to prevent resistance to change. We explore how to use language (when introducing change) to reduce any potential threat response.
Help employees find stability during constant change. When there are multiple changes in our lives and our work environments, it's easy and normal to feel overwhelmed. The result is, our stress level increases and our ability to take action decreases. Skilled change leaders help people balance what is changing with what's not changing—leading and managing to create stability while moving forward.
Build capacity and capability for future changes in the organization. Every change you make in your organization has the potential for making it healthy and robust or unhealthy and weak. Your organization's change capacity plays a crucial role in what happens. Change capacity is your ability to implement any one change while maintaining daily operations and not compromising future change processes[2]. Skilled change leaders know how they enable change today determines the organization's capability to change tomorrow.
Create Skilled Change Leaders at Every Level of the Organization
Each level of your organization is capable of bringing knowledge and skill to your change efforts. Ensuring you have people with the skills to navigate change saves time, saves money and increases performance. It's not enough to have a few people skilled at managing change or to leave change to an organizational change department.  You need to enable change every day at every level of the organization.