Before I teach a change management course, I ask participants to send me the one question about the organizational change they would like answered. The questions give me insight into their challenges and their thinking about change. It also lets me know how I can help each person in the course.
Sometimes I get a multi-layered question like this question. The participant asked: How can I approach implementing change with the most resistant and hard to reach employees?
The question highlighted at least three critical factors leaders need to consider when enabling healthy and sustainable change. These three factors are:
The leader's beliefs about change and people's response to change
The importance of understanding the normal human reaction to change
The impact your organization's approach and history with change has on the current change initiatives.
Getting Through to "The Most Resistant Employees"
It can be frustrating when dealing with employees that you believe are resistant to change. These are the employees that often lead with "yeah but…" or "No, that won't work…", or we tried that before, and it didn't work."  When we receive these responses, it's easy for the emotional side of our brain to take over. But if you pause, make a slight shift in your thinking, and change your approach, you can engage with the employees.
Before we talk about the best way to approach the situation, I want to make one caveat. There is no one right way to enable and engage people in organizational change. But there are some essential elements. When you have the knowledge and skill to use these critical elements, you can enable change without resistance, less stress, and increase your potential for success.
Approaching the situation in the question or a similar scenario requires the leader to examine their beliefs about change. The question is based on the assumption that people resist change; therefore, the problem resides with the employees.
However, rarely is that the case. The idea that people resist change has become a largely inaccurate belief that has embedded itself into leaders' vocabulary, thinking, and approach to organizational change.
But the result of that belief is you approach change with a resistance mindset. With a resistance mindset questions, lack of follow-through, slow engagement, and complaints become evidence of resistance and make the problem bigger.
The belief that people do resist change leads to all sorts of unproductive and actions within organizations.[1] For example, you may not allow sufficient time to prepare people or bombard employees with one change after another or underestimate the risk and complexity of the transition. One study found 17% of reorganizations are launched at the whim of an executive or because the leadership team believes the company needs to be shaken up[2].
The evidence doesn't support the belief that people resist change. We live in a world of constant change. Humans have consistently demonstrated the ability to change and adapt to new environments, technology, and situations.
However, we will react and respond to anything different. That's why letting go of the belief people resist change and understanding the natural human response is a better approach.
Replace, Reframe, Reset
Letting go of the resistance mindset and replacing it with one of readiness can feel counter-intuitive. To help you let go, let's look at the human dynamics of change.
What is often called resistance is a normal human reaction to something new or different. Think about how important your routines are. You, me, humans, we crave and desire consistency and predictability. It's comfortable. We know what each day will look like, what it will bring, and what we can expect. Even people who talk about liking variety have a level of predictability in their lives.
I have often talked about this, but it bears mentioning again because it plays an essential role in our response to change. Anything that forces, pushes, or requires us to leave our everyday routine can trigger automatically and unconsciously our stress response. Once activated, we must consciously turn it off.  Then we are required to manage that stress response.
If we reframe the feedback, comments, and actions we see and hear from resistance to reaction, we can reset and use a readiness mindset to support these employees.
Adopt a Readiness Mindset(TM)
A readiness mindset(TM) breaks the toxic cycle of resistance because it takes you out of the "tell and sell" approach to change. Instead of selling the change, your focus is on preparing and supporting people through the journey.
With a readiness mindset, comments, questions and other reactions aren't negative or positive. It is the feedback that can be used to assess the level of readiness and identify the level of support needed.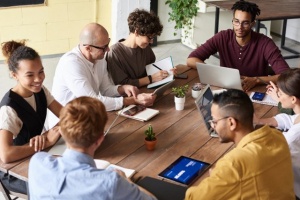 Leaders who adopt a readiness mindset also ask different questions. For example, instead of asking, "Where is the resistance coming from, and how do we manage those individuals"? They ask, "What is the level of readiness, and what do we need to do differently, so they are prepared"?
From Resistant to Readiness
Developing a readiness mindset is not a magic bullet. It takes diligent work. Initially, it feels uncomfortable. One area I focus on when helping a leader adopt a readiness mindset is asking questions and responding to the reactions without the label of resistance.
It will also take time and effort to overcome your organization's history with change. One conversation with a readiness mindset will not undo your organization's experience with change. It will take multiple changes to build trust, reduce the fear and demonstrate an alternative approach of leading change.
However, adopting a readiness approach will help you explore their understanding and how your organizational change history influences their response. With a willingness to approach change differently, you can engage your employees to work with you and move from resistant to ready. 
[1] Dent, E., B. , & Goldberg, S., G. (1999). Challenging "resistance to change". Journal of Applied Behavioural Sciences, 35(1), 25-41.
[2] Heidari-Robinson, S., & Heywood, S. (2016). Getting Reorgs Right Harvard Business Review. Retrieved from https://hbr.org/2016/11/getting-reorgs-right