I recently reminded myself, while horseback riding, of the power recognizing and celebrating what you can't see, has in maintaining momentum and our motivation to move through change.
One of the 10 simple rules for getting employees ready for change is to celebrate your successes. When I first introduce this rule most leaders think about celebrating when they meet tangible outcomes and key milestones. For example, the completion of the training program or the number of people trained, or the completion of the new organizational design, or the reduction in calls to the help desk, and level of employee engagement.
These quantitative measures are important and will help. But they are not enough. They also raise your risk of falling victim to the McNamara Fallacy.
Beware of the McNamara Fallacy When Assessing and Measuring Your Progress
Sociologist Daniel Yankelovich coined the term the McNamara Fallacy in the 1970s. It was named after Robert McNamara, (the United States Secretary of Defense from 1961-1968). The fallacy describes the dangers of putting more merit into data that can be easily measured (quantified) and disregarding what can't be measured easily (qualitative). Then to presume if it can't be measured easily it's not important.
Measuring What You Don't See Builds the Intrinsic Motivation to Maintain Momentum
The qualitative elements of any change are the intangible steps we take as we move through the transition. Because they are intangible, we can't see them, which make them more difficult to measure. But it doesn't make them less important or valuable to your change efforts.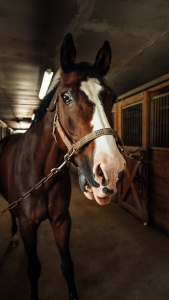 I was reminded of the power of the intangible to drive motivation and maintain momentum during a recent horseback riding lesson. I started learning how horseback ride last year. It was something I always wanted to do. My goals are to complete at least one jump pattern and to have fun.
Seven months later and my goal of doing a jump feels farther away than when I started. I am still working to master my posting diagonal, rising trot, and my two-point form. All of which are necessary to canter and jump safely. It would be easy to get discouraged if my coach and I were not consistently assessing and celebrating my wins. Some of those wins have been tangible. Like being able to tack up the horse by myself and completing two full ring lengths of posting trot.
But my motivation to keep going hasn't come from any tangible or quantifiable measure. It comes from within. And it's fueled each lesson when my coach and I recognize and celebrate my small and intangible successes. Like the time she noticed that my legs and feet had automatically found the correct position. I was building muscle memory. Or the feeling of accomplishment when I completed two figure eights around the ring in a perfect rising trot.
It's similar with your organizational change efforts. Yes, you need to track tangible milestones, like the number of people trained and completing the due diligence for a merger. But to maintain momentum and ensure your changes stick you need to encourage and build intrinsic motivation. Intrinsic motivation focuses on helping people develop their own internal drivers to influence their own behaviours and movement toward the new environment.
Learning to assess, track, and help people to recognize and celebrate the smaller and intangible taps into the emotional side of change. Which then helps people become intrinsically motivated toward the new behaviours and activities.
What are the qualitative and intangible elements of your change?
How can you measure and celebrate achieving these key steps in your change process?