I will confess, I don't have a great sense of direction. I can easily get turned about, especially when travelling in a new city.  The year I got a smartphone with built-in GPS I thought it was the end of getting lost.
GPS is a great tool, except when people follow it without question. My husband and I were in Venice. It is a beautiful city. There are no cars, you walk or take a boat everywhere. The streets are narrow and run in-between the buildings, making it difficult to tell where you are.
One evening, just before dark, we decided to go out for gelato. We had seen a shop earlier that day and calculated it was about a 15-minute walk away. We found the shop, had our gelato and decided to walk around a little before heading back to our hotel.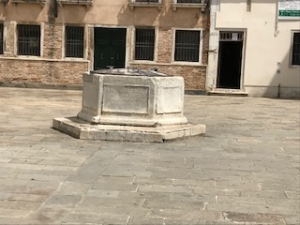 Because we had gone a little off our original path, we programmed our hotel into the GPS. We followed the GPS without question until the voice said, "You have arrived at your destination." We looked around at the empty and deserted square. Our hotel was nowhere in sight. Yes, we had arrived, but we had no idea where we were, how we got there and how to navigate our way back.
Programming our hotel in the GPS is like defining your intended outcome story. It gives you a destination and can give you a sense of how to get there. But, just like our misadventure in Venice, setting the destination and then simply telling people how to get there is not enough for healthy and sustainable change.  To enable healthy change, you, as a change leader, need to be more than your organization's GPS. You need to engage with them as their guide. As a guide, you bring context and understanding of the destination and the journey.
Instead of just telling people what to do, engage with the people affected. Create the opportunity for them to participate in the journey. Your role is to guide and support them as they navigate the change process. It starts by working with them to understand and internalize the need for the changes and what they can expect to see, feel and hear when they reach the destination. Then encourage conversations and questions about where you are going, why and how you will get there. Finally, invite feedback, assess and monitor progress so they can navigate through the Whitespace.
Organizational change is not a linear process, and every change brings a level of uncertainty. That's why your employees must know why the change is happening, where it's taking them, and trust that you will help them navigate the ups and downs of the change.
A strong change leader can navigate their team through any change and put them back on the right path when they get lost.
Looking to become your organization's guide? Check out our Living and Leading Change: Change Leader's Certificate Course